Motorcycle Shippers is Headed to The Mitten | 3 Key Growth Objectives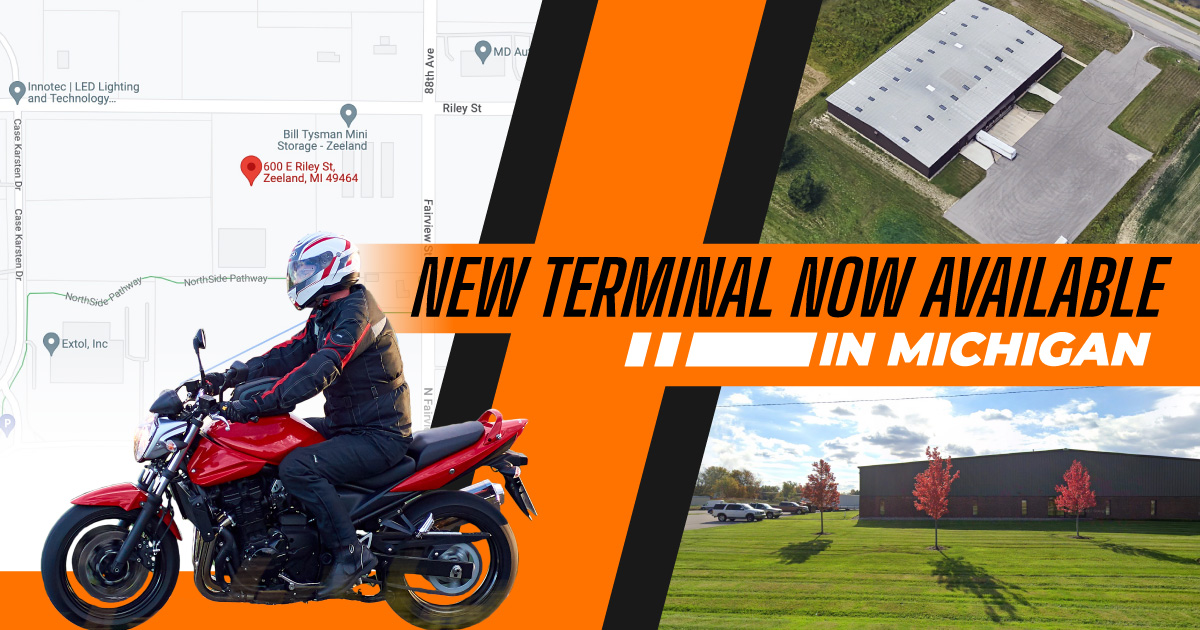 Posted By:

Matt Ellis, Motorcycle Shippers Brand Ambassador. Armed with a laptop and camera, he can be often be found at the race track with friends and family. Motorcycle Shippers
It's time to expand and lay some new roots. As remote work takes hold, our customers are fanning out across the country. Nearly 5 million Americans have moved from major US city centers since 2020 because of remote-work opportunities, according to Adam Ozimek, the chief economist for the Economic Innovation Group. In fact, as of 2022, 26% of U.S. employees now work remotely. At Motorcycle Shippers, we are always looking for ways to offer faster service, and as our riders move across the United States in search of a healthier work-life balance and a lower cost of living we have expanded our network to do just that. So where is the new terminal located?

Bar trivia! – What do racers Jeff Stanton, Nick Way, Brad Keselowski; tennis player Serena Williams; and pilot Charles Lindbergh all have in common? They were all born in Michigan, or The Mitten as it's sometimes described because of how the state appears on the map. The Lower Peninsula is shaped like a mitten!
NEW MICHIGAN TERMINAL
3 Keys to Motorcycle Shippers Expansion
Objective # 1
Enter a growing market – Riders are leaving major city centers, but where are they going? Well, this might surprise you but with one motorcycle per every 33 Michigan residents, it is an extremely popular state among riders. The cost of living in Michigan is 10% lower than the national average and housing is 23% lower than the national average. Detroit was recently selected as the home of the USA's first electric-vehicle charging road, solidifying its title once again as the Motor City—but for the modern age. A motorcycle endorsement is only $16! Its low real estate prices make it a destination to not just visit but to live and possibly to ride off into the sunset in. If those aren't indicators of a growing need for motorcycle shipping, I don't know what are.
Objective # 2
Be where riders are – Moving to Michigan, means experiencing all four seasons. Few things are sweeter than Michigan in the summertime with late sunsets, beaches, bonfires, boating, barbecues, and motorcycle rides — basically, the good life. It is the home of the Redbud National in Buchanan, MI which is a stop on the Pro Motocross Championship Series that attracts a whopping 60,000 visitors on race day. This year it will be held on July 1st. Motorcyclists are also drawn to Michigan because it has some really amazing rides like Tunnel of Trees Road, North Lansing Loop, Copper Harbor Run, and Manistee to Traverse City ride. It also has some of the most beautiful places you'll find anywhere in the world. In fact, recently Mackinac Island, MI made the list of "The 25 Best Islands in the World" according to  Travel+Leisure Magazine. With all this going for it, Michigan is an easy choice for our expansion.
Objective # 3
Deliver excellent service – Having terminals close to our customers can provide more flexibility when picking up or dropping off a shipment and doing so also helps expedite shipments. It means our motorcycle skids and our drivers are nearby and ready to serve. Terminals are open Mon-Fri for our Classic Shipping Service. In an industry where punctuality matters, our new Michigan terminal will help us answer the call of our northern customers.
Why does it matter?
What it all boils down to is that if you are planning to use our Classic Service in or around Michigan you are in luck. With our Classic Service, motorcycles are strapped onto a special skid and secured with soft straps. Units other than motorcycles are secured directly to the truck using straps. The skid provides a Perimeter of Protection around the bike to help protect it during transport. What's great is that this is now all available to Michigan motorcycle riders with the click of a mouse.
Classic Service is our top-shelf offering. This service is for you if your motorcycle is super valuable…sentimentally or otherwise. There is no safer way to commercially ship your motorcycle.
Features Include:

Door-to-Door Delivery
Perimeter of Protection
Fastest Service
Terminal Drop-Off/Pick-Up Locations
Terminal locations nationwide
If you are one of the many motorcycle riders who need to ship a bike outside of South Carolina we can help you too. With terminal locations throughout the United States, Motorcycle Shippers can ship your bike anywhere in the country. We're proud to be your first choice for motorcycle shipping, go ahead and get your quote today.
If you are still in the research phase, you may be interested in these previous posts.
CHECKLIST FOR BUYING A USED MOTORCYCLE
SHOULD YOU TRUST CONSUMER REPORTS MOTORCYCLE RELIABILITY STUDY?
GET TOP DOLLAR WHEN SELLING YOUR MOTORCYCLE | 2022 GUIDE
HOW TO FIND CHEAP MOTORCYCLE TRANSPORT (AND AVOID HIDDEN COSTS)