Finding a Good Deal on a Motorcycle | 2023 Guide
Posted By

Clint Lawrence, founder of Motorcycle Shippers. Helping give riders more freedom to enjoy the bikes they love. [email protected]
Motorcycle sales may be down from what they used to be, but U.S. consumers are still buying around 500,000 motorcycles a year. About 842,000 motorcycles were registered in California, a popular market for bikers.
Maybe it's the seemingly eternal summer. Maybe it's the ocean. Whatever it is, states like California and Florida tend to have more registered motorcycles, riders and demand than other states—which could also drive up costs.
But wherever you live, you don't have to give in to the soaring costs that motorcycle sellers are demanding. Here are three tips to get the bike you deserve, at a price you'll love.
Finding a good deal on a motorcycle
1) Buy off the showroom floor!
Are you kidding me? Dealers are always more expensive, right? Never use always, those absolutes are your good deal "land mines". Instead remember that dealers need to move old inventory in order to get new inventory from the manufacturers. They want to sell their bikes as bad as you want to buy one. Consider opting for last year's model that's been lingering on the showroom floor. Second, question your
salesperson about left over inventory that might not be on the floor. Many times dealers have such an abundance of bikes in stock, they leave them crated or stored in the warehouse or even off-site. Sales people need to be reminded to get creative, and you can benefit by helping them create the deal you want.
Search Cycletrader.com and browse by specific years, 1, 2 or even 3 years older than current. What you can find are "New Old Stock (NOS)" motorcycles that are marked down significantly. Many of the listings will say something like "New" or "Last one available". Underneath the price on all listings they show the mileage. On these NOS units the mileage may not show as technically they should have 0 miles.
2) Timing is everything. Take advantage of motivated private sellers and dealers

Warm summer days call out the biker in us all, but they also can drive prices higher than ever. There are better times of the season to buy but you'll have to plan ahead and go against the grain just a bit. The best time to buy is January, so instead of buying yourself Christmas gifts (we all do it) save that money and put it to good use when everyone else needs cash. Even dealers are more welcoming during this time of year. Extreme cold weather is also a natural "good deal" environment. If your local dealer doesn't experience snow storms, find a dealer in another state that does. The short, sweet days of February can also be a great time to buy a bike. With fewer days to meet their sales quotas, dealers might be more willing to give you a break in price. Simply watch the news and when the big storm hits find a few dealers in those states and call them up. Yes I said "call them" with your phone. It's that thing you charge every night and carry around so you can text and email people. Hearing a live voice can be very motivational to sales people as it humanizes the transaction and lets them know you're not just "kicking the tires". 
3) Go online, the nation is your showroom!
Expand your search. Sometimes, buying local could be expensive,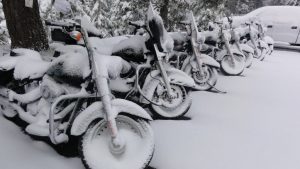 especially if you live in popular motorcycle markets where prices (and sales tax) are always soaring. Broaden your search and go nationwide. Going through dealers, private sellers or used bike dealers around the country could help you get the best deal on the market. The worldwide web is full of deals. Here are some tips to help cut the hassle and keep you safe when buying online. Here are some links to our favorite motorcycle marketplaces:
Ebay Motorcycles
Cycle Trader
Chopper Exchange
Autotrader Motorcycles
Facebook Motorcycles
Craigslist
Powersports Auctions
Auction Time
Iron Planet
Cranky Ape
Ride Safely
The motorcycle shipping solution
We're well aware that sometimes the best deals are hundreds (or thousands) of miles away. And that can get pricey. After all, the average shipping cost of a bike is about $750, so savings could quickly be lost once you add in the transport costs.
But that's where we come in. We enable you to get the great deal, and keep it great.
How do we do it? With 1100 trucks in our network and 44 shipping terminals around the nation, we are close to wherever your great deal is. This enables us to operate for less than other shippers.
And we hate hidden fees as much as you do, which is why we base our service policy on a No Surprises motto. We'll transport your bike from pickup location to your door at the same rate we quoted from the start. And with so many trucks shipping within our network, we do it in the fastest, most efficient (and eco-friendly) way possible.