The Family Value of Motorcycle Riding | 2020 Guide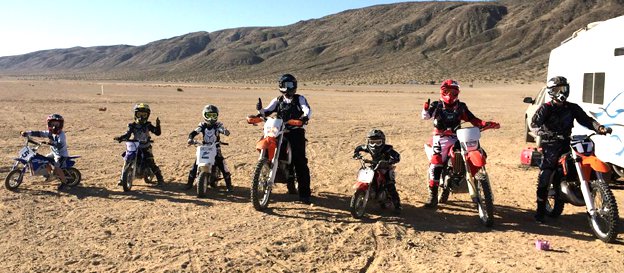 Posted By

Clint Lawrence, founder of Motorcycle Shippers. Helping give riders more freedom to enjoy the bikes they love. [email protected]
Off-road riding can be more than a good time, it can be a family building experience.
For motorcycle enthusiasts, teaching young ones how to ride is an important skill to develop. Family motorcycle riding fosters great life memories .
In the Journal of Adventure Education and Outdoor Learning, Patti Freeman and Ramon Zabriskie wrote "Several studies have indicated a positive correlation between strong, successful families and family participation in outdoor recreational activities."
Your family can be large or small, your children young or old and off-road riding can still prove to be a great bonding experience.
Weaving the Fabric of a Happy Family
Whether it is with a parent you don't get to spend enough time with or a young one you are raising, there is no feeling like riding together. It can be a powerful tool in rekindling old relationships and strengthening new ones.
Riding together allows people to connect through a shared experience. It also enables people to spend time together while enjoying destinations that can't be reached with an SUV or Mini Van.
Unplug and Put Distractions Aside
Has it been a while since your family enjoyed something that didn't involve electronics? It's easy to get sucked into everyday life. Many of us spend a lot of time stuck in front of screens. It can be alarming to think about the amount of time families spend together not interacting. But don't worry, there is a fix.
The key is putting distractions aside and spending quality time together. Be the hero in your family and help break the cycle. Jump on your bike and get outdoors!
Cost-Effective with great Return on Investment
One of the great things about off-road riding is that it can be relatively inexpensive compared to other forms of motorsports. Most riding areas only charge a small fee if any at all. Plan a day or two, bring your bikes somewhere scenic, and have fun.
The good news is, you will get a day with the family and hopefully some good stories. Introducing motorcycle riding as regular family activity allows family members to bond. You may think you know your family, but families grow and change as members mature. Spending time together helps build trust which in turn, is your return on investment.
Making a Strong Child
Off-road riding is great exercise and can to teach small kids skills in an age appropriate way. The CDC says "children and adolescents should do 60 minutes (1 hour) or more of physical activity each day." Playing in the backyard is great but family motorcycle riding adds some variety that helps develop different muscles in a fun environment.
Find your Flow
Enthusiasts report a physical and mental connection with their motorcycle. There is no other feeling that compares to the freedom you get from being outdoors aboard a motorcycle that you can direct anywhere you like. Thoughts and worries about the day seem to go away and living in the moment is all that matters. Your family will remember that feeling as well, making the ride a great conversation starter for weeks and years to come.
The Takeaway
Set new goals for your family. Build family relationships by riding together away from the distractions of electronics. Family motorcycle riding is cost effective with big returns for everyone. Learn new skills and find your happy place.
Remember, when purchasing bikes for the family it is important to find the correct size for each family member, especially young kids. If the bike you purchased is too far away to drive and pick up call us, we can help you. Motorcycleshippers.com.